It's been a minute. Writing birthday blogs kept me busy in March. Now Andrew is officially 2 and William is officially 6. Christopher's birthday is the last of the bunch coming up on April 24th. Our house is very busy and noisy these days with a 2, 4, and 6 year old. I am so thankful the weather is warming up and they can all be sent outside to roughhouse. I haven't managed to get a birthday party planned–perhaps in May?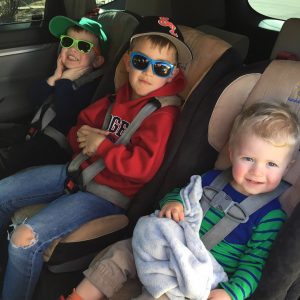 Big news on the employment front! After being quite unhappy at work for much much longer than I care to admit, I've made it official that my last day at TOSH will be May 3rd. I love Intermountain Healthcare, and really love everyone at TOSH, but for the time being I can no longer keep working in my current position. Jason has done really well at work these last few years which has allowed me to consider working for enjoyment vs working for the money. As I realized my job was no longer enjoyable and additionally wasn't doing anything good for my physical or mental health, it was time to move on. Now here's the crazy part–I don't have a job lined up and I think I'm OK with this! The current plan is to use May as a mental reset, and then stay home with the boys for the summer. If staying home full-time drives me totally insane, it will be pretty clear that I should find a new job by fall. Who knows, maybe I'll like it? I'm at least willing to give it a try. The one thing I do worry about, is the boys missing daycare, or "Debbie's House" as they call it. Andrew asks if we're going to Debbie's house almost every time we get in the car these days. Hopefully she has a few days during the summer when they can still come and play.
Since I last wrote, the older two boys finished another round of swimming lessons. I think we will do more again this summer. I also signed William up for Kindergarten soccer. It is just 6 practices/games but he is pretty excited about trying it. We will see how it goes. Andrew is cute as heck, but also has a raging case of the terrible two's. This may be in part due to the fact he is cutting 3 molars at the same time as confirmed by his dentist last week. Good times.
One highlight of the month was accompanying William's class to the Living Planet Aquarium.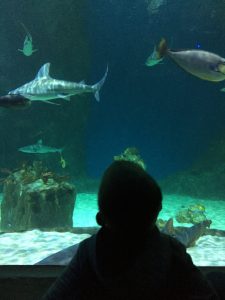 Kindergartners are hilarious! Thankfully I only had two to keep track of (one of which was William). His little friend was super-fast, but thankfully in the dark aquarium he was the one wearing light-up shoes. (Normally I find these shoes kind of obnoxious, but in the dark aquarium amongst 100 other kids they came in quite handy). Favorite stories from the day: I was in charge of sticking a name tag to each child's back before we left the classroom. Me to kindergartner "Excuse me Sir, can I stick this on your back?" Kindergartner to me: "My name is not Sir. It is Jacob. J-A-C-O-B." Also on the way down the interstate my son's friend pointed out the window and said "That's where my Dad works!". So I asked "What does your dad do?", and he explained to me, very matter-of-factly, "My Dad goes to work–and they pay him money." I guess it is good someone finally explained "work" to me. Other than that nobody got lost and teachers are saints. End of story.
I bought myself *ahem* Jason bought me a belated Valentine's/early Mother's Day gift. I found this little shop on Etsy that makes custom sterling silver rings, and I ordered one with each of the boy's birthstones. Conveniently they are March-April-March. After a little trouble getting the right sizing, I really like how it turned out, and it didn't break the bank.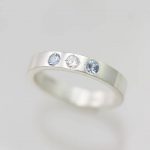 Last week I started another round of Pilates at TOSH. This time I will be taking classes 3x/week. After being gone from the class for around 10 months I've found that I really missed it. Between Pilates and spring yard work I am guaranteed to be sore for weeks. For example today–just as I was feeling pretty good–I decided to muck out the pond for the year and clean out two flowerbeds. At least I have 2 more "recovery" days before Tuesday's class.
In other exciting news. Our refrigerator decided to die last weekend. Thankfully, it picked the best possible time to do so. When we woke up Friday morning it was making a very ill sounding noise.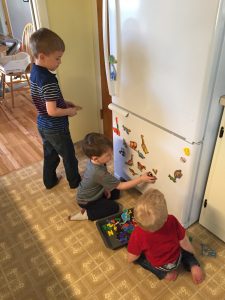 The good news was that the boys were already scheduled to go to Debbie's for an Easter egg hunt, and Jason had taken the day off. Our morning plans immediately became fridge shopping, and we had one purchased slightly before lunch. Thanks to a VERY attentive salesman from RC Willey, it was on the Saturday afternoon delivery truck–amazing timing given our fridge officially died sometime Friday night. Our food was in coolers for less than 12 hours and we didn't really lose anything. The new fridge isn't fancy, but will make an awesome basement/garage fridge in a few years when we redo the kitchen. Although it is never the perfect time to spend $1000, our story had a pretty happy ending. We even had time for an afternoon day-date (Chinese, a movie and ice cream). Jason commented that it was quite an extravagant day-date which had me a little miffed until he explained that he was including the refrigerator purchase in the total.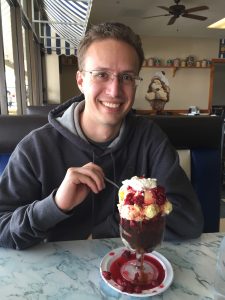 This weekend, last weekend, and the weekend before it were supposed to be lazy do-nothing type weekends. Somehow spring weather, kids, Easter, half a dozen appointments, a dinosaur museum, a woodcarving festival, and a dying refrigerator have seriously thrown this off plan. Sometimes it is good if it rains just to save me (and the yard) from myself. One exciting development is that I finally had the courage to get out my grandmother's sewing machine I brought back from WI during our last visit. Thank goodness I had the instruction manual to help me remember how to thread it and make a bobbin! I haven't laid hands on a sewing machine in probably 20 years. It was rough, but I managed to sew a pillowcase and blanket for Andrew. The hope is that he will develop another favorite blanket so that I can at least wash his favorite one once in awhile. So far it hasn't worked, but at least he stopped rejecting them completely.
I hope you all had a great Easter and this blog finds everyone doing well. One more birthday blog to write this month and then I should be back to my regular monthly rotation.
Take Care!
S.~