These last 6 weeks have flown by! My last day at work was May 3rd, and the entire last month was nuts-o-crazy-o trying to get everything in order before my last day. I was intending to stay on-call, but my boss had other ideas. I guess I must be a trouble-maker! So I've been adjusting to staying at home. I've been keeping busy with the usual (yard work, cooking, cleaning, painting a bedroom), and the somewhat unusual (a vacation to Yellowstone!)….more on these things…
So I quit my job. Took a week off. Got a new job (more or less). When I announced I was looking for part time work a friend referred me to a transcription company called Telenotes, and I accepted a position there that starts June 11th. The great thing is it is completely stay-at-home compatible doing transcription work a few hours each day. It's piece-rate and doesn't have any fancy frills but will be a little extra money in our bank account each month. I figure it will give me something to keep busy with and keep employment on my resume for the future. It will also allow us to keep the boys in their daycare/preschool program at Debbie's 2-3 days/week until Christopher starts regular half-day preschool at the elementary school this fall. I'm fairly optimistic at this point about it all working out pretty smoothly.
No job to report to each day means there will obviously be projects. I've done some work in the yard. I painted our bedroom so it's much less tan. I bought some (much needed) summer clothes. Being home has had some definite benefits. I've walked William to and from school most days. I've easily gotten 10,000 steps/day instead of sitting on my butt at a desk. I can stress less about cramming everything into the weekend just to live in survival mode during the workweek. Jason would probably say the amount of cooking has improved. I would say that I've mowed the lawn more often (because I can do it on a weekday instead of Jason doing it on the the weekend). If I want to make a pan of brownies mid-day I do it (OK maybe this isn't really a good thing). It will sting a little not having the same paycheck, but so far I have no regrets about my decision to quit that job.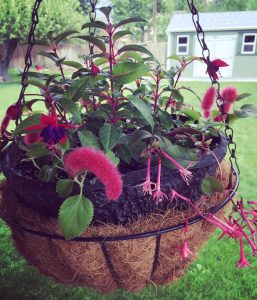 William graduates kindergarten next Friday! Just as I feel like I'm getting to know his teachers so well it will all be over. 🙁 I sure hope his teachers both stay around for Christopher and Andrew. We sure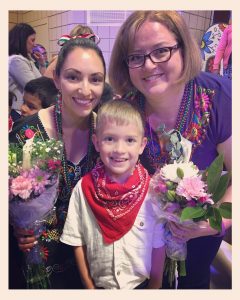 love them! Last Friday the kindergarten, first, and second-graders in the dual-immersion program put on a performance at the school. It was fun to see them all dressed up, singing and dancing. William told me he will miss practicing the songs and dances each week. It got me a little emotional seeing them ready to move on to first grade–I don't know how I will survive kindergarten graduation without bawling…I mean COME ON…it's kindergarten. William also just finished up his first try at rec soccer. He had fun and it was fun to see him playing with his friends. I'm still trying to decide if we sign up again for summer, or do swimming lessons, or nothing, or both. 🙂 Notable William story: With the help of Jason, he got the phone number of one of his classmates that lives a couple streets over. She (and a couple of her friends) live very close to us, and we were thinking they might enjoy playing together during the summer. On the walk home from school William explained to me he would like to call "Girl" after we got home. I asked William what he planned to talk about. He told me he thought her mom would answer the phone and he would ask if "Girl" was there. Then he would ask is he could speak to "Girl". I asked him what he planned on talking to "Girl" about, and he told me he hadn't thought of that part yet. LOL. Safe to say he's pretty clueless, but it's cute.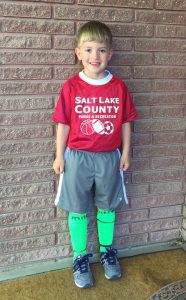 Christopher celebrated his 4th birthday! (I'm still working on that belated post) He is starting to be a little more tolerant of Andrew. They still aren't best buds like I'd hoped, but as they both get a bit older they are at least able to exist in the same room without fighting. Small steps, right? I buzzed Christopher's hair for the summer this week and I think it's SO cute! He also had a dentist appointment and we discovered that one of the front teeth he had dental work on a couple years ago is now loose! He might lose a tooth before he starts preschool this fall, and have a gap-tooth smile for awhile. He is still my lazy morning boy, but always wants to get dressed first thing after he's out of bed. He often yells "I'm Captain Underpants" as we're changing him out of his PJ's (or into his PJ's). His silly nature makes us smile every time! As he gets bigger he is also less tolerant of William ALWAYS being the boss. He now has his own ideas when they are playing pretend. If William doesn't let him make decisions he threatens to "never play with you again"…which he does no less than a half-dozen times per day. He's not much good at sticking to these empty threats.
Andrew is starting to talk up a storm and form actual sentences. He has learned to jump. He will haul a step-stool all the way across the house (or yard) to get where he wants. He scoots on his tricycle around the front driveway and all the way down the street when we go with him. He's obsessed with car shows, string cheese, popsicles and his car blankie. It is fun to see his little mind growing so quickly. He is still a serious mama's boy–at times this drives me crazy–but whenever I leave the house and come back I'm greeted by the happiest, squealiest, huggiest, two-year-old ever, making me almost forget the clingy, needy, whiney two-year-old he can sometimes be. He still naps like a champ–he's probably the easiest to go down for an afternoon nap out of any of the boys. Sometimes he will bring his blanket and basically ask to be put in his crib. Speaking of cribs, unless he starts crawling out, I think he can sleep in there until middle school. 😉
So our Yellowstone trip. If you take a trip down memory lane with me, you probably don't remember that Jason and I were planning a trip to Yellowstone in July of 2006. It was going to be over the July 24th weekend (a state holiday in Utah). Unfortunately, we broke up July 4th, and I ended up spending July 24th weekend in WI being consoled by my family instead. Twelve years later and we still hadn't made it to Yellowstone. It became a bit of a joke that I "wasn't sure if our marriage could handle Yellowstone". FINALLY–12 years and three kids later–we thought we'd give it a shot. Thanks to cousin Heather and Grandma Marion/Grandpa Lee, Jason and I spent a child-free weekend in Yellowstone, and our marriage survived to tell about it! (Although one of the days that we'd already hiked 10+miles and my feet were killing me I let Jason know that we were getting close to a break-up). Yellowstone was beautiful. Originally the weather predicted rain, but it held off and we only got rained on once during the 4 day trip while we were actually hiking. We stayed 2 nights in West Yellowstone and one night in Jackson Hole. Most of the campgrounds weren't open for the season yet–and who wants to freeze to death camping after potentially getting rained on all day? We hiked an average of 10 miles/day and saw some beautiful sights. Grandma Marion told the boys we were scouting out places to take them when they were older, and they were pretty excited by that!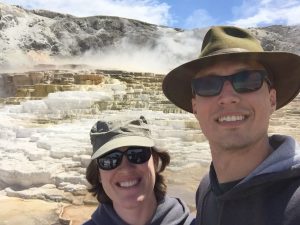 A few more boy pictures to wrap up. It looks like all of us will be making our way to WI sometime this July. We're looking forward to summer vacation, playing in our new pool, lots of trips to the park and library, and just generally hanging out. We hope everyone is planning on doing a lot of the same!
S.~