We have not recently visited a 3rd world country, so I believe the odds of William having some sort of a tapeworm to be rather low. I do believe however, the odds of him being in a growth spurt right now are pretty good. Right now this kid is in an eating phase and I'm glad he can now pour a bowl of cereal and run the toaster by himself or I don't know what I would do. I am already fearful of the gallons of milk and loaves of bread it will cost us to get them through the teenage years. Hopefully the new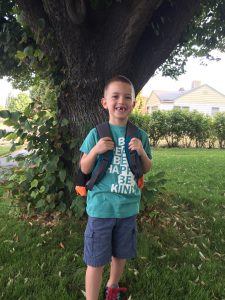 school pants last long enough that the knees can wear out before they got too short. William is now a first grader and continues to enjoy the dual immersion (English/Spanish) program. We had our fall parent teacher conferences last week and it sounds like he's doing second grade work and the teachers are trying to find ways to challenge him. He's a great reader (in English AND Spanish) and has pretty darn good penmanship for his age. They say he is 'mature' for a 6 year old. Sometimes I wish I saw more of that at home (what parent doesn't?) but at least he's well-behaved at school right? We just finished our second rec soccer season and William seemed to have fun. They moved to a bigger field and he kept up just fine although he spends most of his time wanting to be a defender and not really going after the ball. It was fun to watch his games though and the weather stayed pretty good up until the very end. In other big news William has now lost 4 bottom teeth and 3 top teeth. He brushed one of the top teeth out with his toothbrush! He also recently learned to tie his shoes. (Yay!) Proud parent moment.
Christopher enjoyed his first season of rec soccer. 4 year old soccer is hilarious. Highlights include a game early in the season where one little girl needed a parent to hold her hand the
entire practice, and game. The second game Christopher came out half way through the game because he was tired, and refused to go back in. There was one little boy who pitched a fit on the sidelines because he was supposed to be in soccer practice instead of playing with the PJ Mask toys that had been brought along. One four year old refused to sub out, which was funnier when we realized she was the coach's daughter and he carried her off the field. Last week the 4 year olds suddenly discovered "flopping" and Jason has video of kids falling one after another untouched and giggling about it. Most games Christopher did his best to avoid kicking the ball but really enjoyed keeping score on his fingers every time either team scored a goal. On the few occasions that I didn't make it to a game I would ask Jason, "Did Christopher kick the ball today?" One particular Saturday his reply was "Well it hit him a couple times." Ahh yes, 4 year old soccer. Also new to Christopher this fall is preschool. There is a free half-day preschool program at the elementary school, and now that I'm staying home we decided to take advantage. Christopher seems to be enjoying it, although he has the morning session, and is not exactly a fast starter. During parent teacher conferences his teacher described him as calm and relatively un-excitable. She says he is good to play with anyone, and never minds being volunteered for a job that's not immediately taken. Apparently he spends most of his time playing with the firefighter outfit in the classroom and trying to recruit his fellow classmates to be firefighters with him.
I think Andrew is best described as boisterous. He's noisy and funny and opinionated and sometimes quite rough. He runs hard, plays hard, and still naps hard. This kid naps like it's his job. Most days I'm
pretty jealous. On the downside, he takes forever to settle in at night, typically loudly yelling his requests for 30 to 45 minutes before holding still long enough to pass out. He often tells you he "took long nap" when he wakes up. He goes to daycare at Debbie's 3 days a week, on his days home with me he loves to ride his tricycle back and forth to the elementary school as we make laps back and forth to drop off and pick up. He asks every day if it is a "Debbie day" as he calls it. He really likes going to daycare and playing with the other kids there. Out of all our boys, Andrew seems to be wired with the strongest survival instinct. Perhaps this is due to necessity given that he's the 3rd child, but while his brothers are complaining about being hungry, Andrew just takes care of business. He will haul the bathroom stool across the entire house to reach snacks that William is unable to reach. He'll find is own bowl and pour his own cereal before the thought even crosses one of his brother's minds. He will retrieve his own coat and shoes, and then go back to gather his brothers'. This kid is not willing to be hungry or get left behind. 
My typical day (at least Monday through Thursday) now involves 3 walking trips to the elementary school with a bunch of transcription, or as I call it "typity-type" in between. The new job is going well and gives me a ton of flexibility. I set my own schedule and most days manage to work twice as much as is required, which amounts to around 4 hours a day.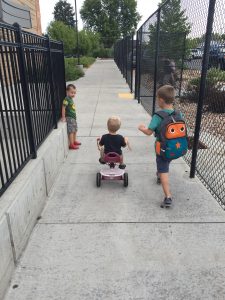 Some recent fun in our household was the acquisition of a rather large aquarium. I'd been daydreaming of getting a larger fish tank really since we put the 2 gallon fish bowl in William and Christopher's room. There was a rather attractive aquarium on sale at Petsmart and was considering getting it and then stocking it closer to Christmas. I did what I usually do, and checked the classifieds only to discover someone was selling exact aquarium that I was eyeing, complete with pumps, lights, a heater, plants, rocks, AND fish! So many fish. Cichlids to be exact. Some of the most colorful freshwater fish you can find. Needless to say, we went from no aquarium to a fully stocked aquarium in a matter of a few days. It is beautiful, and now I'm trying to learn all I need to learn about Cichlids to keep them happy.
We're preparing for a visit from my parents in a few weeks. My dad says if he just sits around he'll set up like cement so we have a few projects on tap once again. The project I'm probably the most excited about is the installation of a real, actual, built-in dishwasher! We've been using a portable dishwasher since we moved here 6 years ago. It has never been great at cleaning dishes, and it's definitely not getting any better. Jason resurrected it almost a year ago, but now the interior is starting to deteriorate, so we're going to sacrifice some cabinet space next to the kitchen sink. What will it be like to be able to fill a pot of water in the kitchen while the dishwasher is running? Glorious. All other projects might pale in comparison to getting a built in dishwasher but we're also going to install a couple of ceiling fans and do a few minor fix ups around the house. I'll save what fun I have planned for the next post and just hope it is as exciting as the new dishwasher.
We're also preparing for Halloween. I think William wants to be a stormtrooper and Christopher wants to be Superman (again). We have not yet determined what Andrew wants to be. Halloween is admittedly not my favorite holiday, but this year I tried to make up for it with some retail therapy and got a bunch of cute decorations. The boys were just sad there weren't more decorations, but have to draw the line somewhere. I did call Jason from the store in an attempt to answer the question "How much can one spend on ceramic pumpkins?". The answer is a lot. More than you'd think. They were on sale, so sue me.
It seems like the transition from summer to fall was abrupt this year. We've gotten more rain than usual thanks to a Pacific hurricane sending moisture our way. I've done a little canning, and there's more to come. The swimming pool is packed up and the garden (which didn't amount to much) should be taken down for winter. I'm happy for sweatshirt weather and looking forward to the holidays. Hopefully this note finds you well.
Until next time!
S.~